Latest News and Information
14th October 2020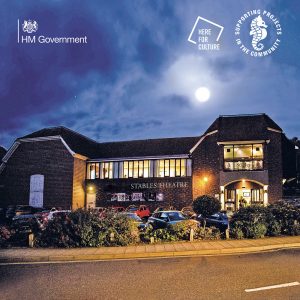 Successful Grant Award
The Stables is delighted to have received a grant from the #CultureRecoveryFund, enabling the theatre to continue with its current plan of developing community engagement within Hastings and St Leonards. #HereForCulture. Thank you to ACE and DCMS. Supporting inclusion and diversity is vital in such difficult times and the grant will allow us to continue with a 'soft' re-opening in November 2020 to, hopefully, a fullopening in March 2021.
This grant is a fantastic lifeline and secures not just the future for the theatre but recognises the presence the Stables is forging in the local community.
@acegrams
@dcmsgovuk
#CultureRecoveryFund
#HereForCulture
13th October 2020
Updated Visitor Information 
General understanding as to how coronavirus is transmitted and current Government guidelines have led us to put the following rules in place for the safety of the volunteers and patrons of The Stables Theatre. These rules may be different to other venues, they are not exhaustive and may be changed if and when government guidelines do.
We hope by adding the following precautions you will be able to relax and enjoy events at The Stables Theatre.
Advertising
For the foreseeable future advertising of events will be online and via email only. Flyers and our 'What's On' will not be produced to reduce chance of transmission.
Booking
Booking for each show will be open for a limited period prior to the performance. This is to reduce the risk of disappointment should the show need to be cancelled due to changes in government guidelines.
When booking, seats will be allocated by box office staff to allow for social distancing. You will receive a confirmation email of the seats you have booked as usual.
Booking for each show will close the day before the performance to allow us time to produce a guest list with your, seat numbers, drink requirements and the 'track and trace' details required. These details must be kept for twenty one days and then destroyed.
Booking can only be made by telephone using a credit or debit card.
Any drinks required should be ordered and paid for when booking tickets.
To adhere to the rule of six, the box office will not be open the evening of the show. Our Front of House team will be at the Theatre to welcome you.
During a booking period messages can be left on the box office answerphone and a member of the team will call you back to confirm and pay for your booking.
Full details on shows booking can be found on this website.
Bar
To adhere to the rule of six the bar will not be open during performances. Drinks can be ordered, paid for when booking your tickets and will be waiting for you on your arrival.
Theatre
Currently shows at the theatre will be:-
Single act and approximately 60/75 minutes in length
There will be no interval
Audience members/ guests will be asked a number of symptom based questions and may have their temperature checked on arrival. If there is any cause for concern you will be asked not to attend the performance and the cost of your ticket will be refunded within seven days.
As far as possible there will be a one way system throughout the theatre. Areas of the building may be closed to audience members except in the case of emergency and the need to evacuate the theatre.
You will be required to wear a mask whilst moving around the building. This can only be removed when seated.
There will be reduced toilet facilities.
We hope these added precautions will make you feel safe when visiting the Stables and the at you are able to relax and enjoy the performance, We will be reviewing these guidelines moving forward into 2021. If you have any comments/ observations following your visit to the Stables please let us know by emailing info@stablestheatre.co.uk
Deputy for Membership Secretary
During the next year we have plans to extend membership 'benefits' and are looking for someone with  skills to assist and deputise for our membership secretary. So if you think this is could be you please email office@stablestheatre.co.uk for details.