REVIEW: Pygmalion by George Bernard Shaw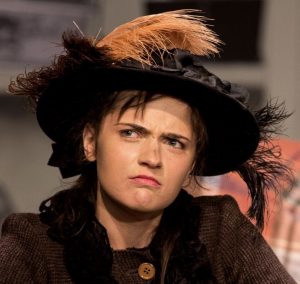 Director Andrew Bruce brought us a funny, engaging, and for any romantic sentimentalists, a hard interpretation of Shaw's famous play. This was not the saccharine entertainment of My Fair Lady but the straight delivery of an Eliza Doolittle finding emancipation and strength to set her own course in life. Love is not mentioned, nor barely hinted; kindness on the part of her mentor, Higgins, may have kept them together but in its absence, Higgin's arrogance and chauvinism left him alone and beaten by his protégé.
Daisy Estall as Eliza was the performance to match. Completely confident in her portrayal of character, delivery of lines and movement about the stage, she was a joy to watch and the centre around whom everyone else was circling. Cheeky charm, poise, development of character – it was all there, and the audience lapped it up. Professor Higgins (Jason Newton) also showed us development of character, albeit less appealing. At the start there was a similar energetic cheek to his manner, perhaps he was a radical rule breaker, prepared to shun society's expectations. However, by the end he was exposed as just another man with a fixed agenda about women's roles and his superiority. Newton's performance culminated in a brutish end to his relationship with Eliza, leaving us with little sympathy for his circumstances. The gentleness of Colonel Pickering, displayed in Nick Cearns' portrayal, sought to soften the experiment in social engineering but Pickering was still a man trapped by his times who found it hard to see Eliza's triumphs as more than the success of two men.
Maureen Nelson as Mrs Higgins looked and sounded every inch the wise and long suffering mother of a selfish son. Tessa Boase (Mrs Eynsford Hill), Francesca Surman and Charlie Abrahams, as her children Chara and Freddy, all played up nicely to the antics around them. Pauleen McLaughlin as the housekeeper was an endearing and resolute rebuff to Higgins' boorish ways and Mike Poole as Alfred Doolittle was similarly appealing, despite his willingness to "sell" his daughter.
Costumes by Julia Dance were impeccable and the set design by Dee Harvey found creative ways for different scenes within one construction – superb curtain device.
Searching for lines can be unnerving for an audience and, at times, this did take the shine off an otherwise stylish and accomplished production. Nonetheless, congratulations to all concerned, especially Ms Doolittle who won many hearts in addition to Freddy Eynsford Hill's.
Philip Blurton