REVIEW: Nell Gwynn by Jessica Swale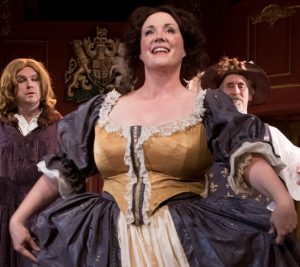 It was very encouraging to see a full house on the opening night of this production; a true tale of Restoration theatre, the controversial introduction of female performers, a King's desires and the trials and tribulations of breaking a glass ceiling within a possessive world of theatrical performers.
The curtain rose to a magnificent two-tier set.  Attention to detail filled every part of the staging.  Expectations were set high from the start and the performances that followed rose to meet them.  Production values were superb throughout, and with intelligent direction from Tim Wormley-Healing, and alongside the work of his team, we were delivered one of the best plays I have seen at the Stables.
The performance of Nell Gwynn was pivotal to the success of the play.  Zola Thomas grasped the role with complete confidence, convincing pathos, emotion and humour.  We followed enthralled her character's journey, and relationships with performers and royalty, from humble beginnings to national popularity.  Zola Thomas seemed born to play this demanding part, and her performance was a joy to watch.
But this was not a one-person play, and I hesitate to single out other individual actors amongst such an exceptionally strong cast, all of whom delivered performances that created a professional ensemble and deserve mention: Izzi Riggs (Rose), Lucy Pappas (Nancy), Gini Comyns  (Old Ma Gywnn & Queen Catherine), Jackie Eichler (Lady Castlemaine & Louise de Keroualle), Paul Hurley (King Charles II), Jim Maxim (Charles Hart), Michael Wilson (Thomas Killigrew), Leigh Scheindlinger (Edward Kynaston), Alec Mohun-Smith (John Dryden), Glen Marks (Lord Arlington), Dan Palmer (Ned Spigget), George Rose (William).
Live music from a galleried quartet covered the slick scene changes and added to the atmosphere.  Not only was the music delightful to listen to, the musicians were in costume and performed with unusual and traditional instruments.  The production was also enhanced by wonderful choreography from Viv Wormley-Healing, a particular delight being Nell's acidic performance for the King and Louise de Keroualle, featuring a superb over-sized headpiece sourced by Gill Jenks.  Overall, the many splendid costumes added huge visual pleasure to the production.
The first Act may have been slightly long but this was more than compensated by the extremely high theatrical standards achieved throughout.   Comments on social media have already praised the quality of this production and while normally I have 400 words for a review, on this occasion, two words suffice; theatrical perfection.
Andrew White