The Show Might Go On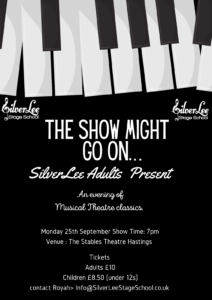 A sensational adult musical theatre extravaganza that combines fun, light-heartedness and a nostalgic atmosphere to create an unforgettable experience. Bursting with energy, the show transports audiences to the magic of classic musicals with a modern twist.
The stage comes alive with dazzling toe-tapping soundtrack that evokes a sense of joy and nostalgia. From the glitz and glamour of the costumes to the infectious enthusiasm of the cast, this production captures the essence of entertainment, leaving spectators with a heartwarming and uplifting feeling. Get ready to be swept away in an enchanting world where the show truly does go on!