The Time Machine
Presented by Dyad Productions.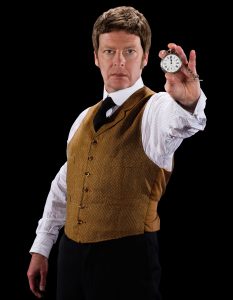 From the creators of Jane Eyre: An Autobiography, Christmas Gothic, Dalloway, I, Elizabeth, The Unremarkable Death of Marilyn Monroe, Female Gothic and Austen's Women.
2018: In this age of uncertainty, where the shadows of tyranny, intolerance and war darken the path into tomorrow, how much time do we have left?  If civilisation falls today, what will become of us?
Rebecca Vaughan presents Elton Townend Jones' radical new interpretation of the HG Wells classic, in which a Victorian time traveller transcends across the ages from 1900 to our own far future – from the fall of man to the end of the world.
Can we change the future?  Or has the end already begun?
★★★★★ 'Outstanding… Amazing… Magic' (Edinburgh Southside Advertiser)
★★★★ 'Terrific… grips the imagination… ideas spit off the narrative like sparks from a welder's torch' (Quentin Letts, Daily Mail)
★★★★ 'Brilliant… Captivates and amazes' (British Theatre Guide)
Stephen Cunningham – Performer
Stephen studied at Queen Mary College, University of London.  Previous work includes roles in Bash: Latterday Plays, Jigsaw and Cowboy Mouth for Peppermint Muse (of which he was a founder and Associate Director, directing Frozen, Fool for Love and The Maids); Sea Wall for OVO (with whom he directed The Country); Falling Off a Log for Tidemark (which he also directed); and Copenhagen, Playboy of the Western World, The Birthday Party, Betrayal and Look Back in Anger with Company of Ten (for whom he directed Krapp's Last Tape).
As playwright Stephen Tomas, he is the author of Hold Off the Earth (an acclaimed adaptation of Hamlet) and Fugue.  He is currently an Artistic Director with Small Animal Clinic.  
The Time Machine marks Stephen's first association with Dyad Productions.
The Drawtones
The stunning maestro saxophonist Derek Nash (Jools Holland Rhythm & Blues Orchestra) recorded and performed on a brand new album "Down the Line" with the East Sussex based Jazz, Funk & Soul Organ Band "The Drawtones" in January 2017. The Drawtones leader and organist Rod Pooley founded the band in early 2016 carefully selecting a top class array of musicians including Andy Williams (Guitar), Simon Brewin (Bass) and Jessica Dann (Drums). Tonight's music will feature tracks from the new album including original compositions and classic tracks from artists such as Jimmy Smith, Brother Jack McDuff, George Benson, Lou Donaldson, Freddie Hubbard and many more…
Band Line Up:
Rod Pooley – Jazz Organ and Keys
Derek Nash – Saxophone
Andy Williams – Guitar
Simon Brewin – Bass
Jessica Dann – Drums
Stables Day
We are delighted to announce that we'll be hosting our very first Stables Day on Saturday March 4th from 10:30am – 4pm.
This interactive FREE community event is your chance to access all areas of the theatre, meet members of our fantastic team of volunteers from all departments and find out how you could get involved.
Whether you'd like to become a member simply to enjoy the generous discount on tickets, you'd like to train in sound, lighting, front of house, costume or stage management or if treading the boards in our wonderful 126-seat venue has been an ambition of yours for a while, we'd LOVE to see you there!
Stables Day is open to all ages, parking here will be free of charge, the bar will be open and refreshments will be available too.
New members signing up on Stables Day will also go into a draw to WIN a pair of tickets for our forthcoming production of 'Same Time Next Year'!
Email Jo Flay for further details.