The Time Machine
Presented by Dyad Productions.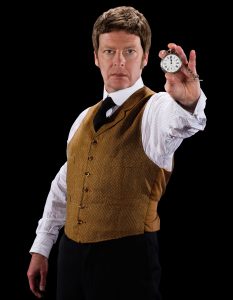 From the creators of Jane Eyre: An Autobiography, Christmas Gothic, Dalloway, I, Elizabeth, The Unremarkable Death of Marilyn Monroe, Female Gothic and Austen's Women.
2018: In this age of uncertainty, where the shadows of tyranny, intolerance and war darken the path into tomorrow, how much time do we have left?  If civilisation falls today, what will become of us?
Rebecca Vaughan presents Elton Townend Jones' radical new interpretation of the HG Wells classic, in which a Victorian time traveller transcends across the ages from 1900 to our own far future – from the fall of man to the end of the world.
Can we change the future?  Or has the end already begun?
★★★★★ 'Outstanding… Amazing… Magic' (Edinburgh Southside Advertiser)
★★★★ 'Terrific… grips the imagination… ideas spit off the narrative like sparks from a welder's torch' (Quentin Letts, Daily Mail)
★★★★ 'Brilliant… Captivates and amazes' (British Theatre Guide)
Stephen Cunningham – Performer
Stephen studied at Queen Mary College, University of London.  Previous work includes roles in Bash: Latterday Plays, Jigsaw and Cowboy Mouth for Peppermint Muse (of which he was a founder and Associate Director, directing Frozen, Fool for Love and The Maids); Sea Wall for OVO (with whom he directed The Country); Falling Off a Log for Tidemark (which he also directed); and Copenhagen, Playboy of the Western World, The Birthday Party, Betrayal and Look Back in Anger with Company of Ten (for whom he directed Krapp's Last Tape).
As playwright Stephen Tomas, he is the author of Hold Off the Earth (an acclaimed adaptation of Hamlet) and Fugue.  He is currently an Artistic Director with Small Animal Clinic.  
The Time Machine marks Stephen's first association with Dyad Productions.
Austen's Women
From the creators of Jane Eyre: An Autobiography, Christmas Gothic, Dalloway, I, Elizabeth, Female Gothic and The Unremarkable Death of Marilyn Monroe…
Thirteen of Jane Austen's heroines come to life in this bold revisiting of some of literature's most celebrated works.  In this much-loved Edinburgh sell-out hit, using only Austen's words, Rebecca Vaughan (Jane Eyre: An Autobiography, Dalloway, I, Elizabeth, Christmas Gothic) becomes Emma Woodhouse, Lizzy Bennet, Mrs Norris, Miss Bates and nine other beautifully observed women in critical moments from Austen's major novels (including Pride and Prejudice, Sense and Sensibility and Emma) and lesser known or unfinished works.
Directed by Olivier Award winner, Guy Masterson (Morecambe).
★★★★★ 'Truly extraordinary… one of the most exciting young performers on the British stage' (British Theatre Guide)
★★★★★ 'A theatrical masterpiece… utterly faultless and vastly entertaining' (Three Weeks)