Danny Champion of The World
Adapted for the stage by David Wood. From the book by Roald Dahl.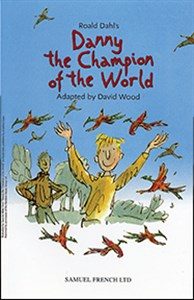 Auditions: Sunday 17th June 2018, 3pm.
Playing Dates:  Wednesday 19th December to Sunday 23rd December
and
Thursday 27th December to Saturday 29th December.
Director: Jane Richardson.
Nine-year-old Danny lives happily with his father in their caravan next to their small filling station and car repair business. One day he discovers Dad has been out poaching pheasants from the estate of the nasty, greedy Victor Hazell. Well, poaching pheasants for the pot is one thing; keeping pheasants purely in order for them to be shot, as Hazell does, is quite another! When Dad doesn't return from a poaching run, Danny fears the worst, and sets off on a courageous journey to find him.  Dad has fallen into a trap set by Hazell and his gamekeepers, but Danny manages to rescue him. Hazell, furious that he's been outwitted, starts a campaign to throw Dad and Danny out of their home and business.  With a little help from the village, Danny soon finds himself masterminding the most incredible and exciting plot ever attempted against Victor Hazell.
The production will be set in a somewhat rose-tinted, nostalgic 1950s – think something along the lines of The Darling Buds of May. It is of course the Stables' Christmas show, and so needs to have all the larger-than-life fun, laughter and magic that a good Christmas show SHOULD have!
I'm not overly concerned about the characters' ages (other than Danny, of course!) If you're right for the part, that's fine with me.
There will be a LOT of doubling-up; please see below.  Actors could have a real ball with this, showing off their repertoire of comic characterisations!
A number of the cast will also need to operate some very simple hand puppets, and it would be great fun if those could become little characters in their own right.
I hope you'll come along and be a part of one of Roald Dahl's loveliest stories with me.
Characters
DANNY
Danny is a smashing lad.  He's bright, considerate, as well as brave and not afraid to stand up against unkindness and injustice. Playing age 9/10, though if you're between say 10-16 years old and think you could be Danny, please come along and audition.  Depending on age, experience and availability, I MIGHT cast two Dannys to share the role, but this is by no means definite.
DAD
Dad has looked after Danny by himself ever since his wife died. He's 'sparkly and twinkly,' kind, and great fun. He's Top Dad. A lovely part.
VICTOR HAZELL
A baddie through and through, with a 'great, glistening, beery face.' He's our pantomime villain – a great fun part!
DR SPENCER
Down-to-earth, sensible, no nonsense, but with a sense of humour and as sharp as a tack. Lovely.
MRS CLIPSTONE
The vicar's wife.  A bit batty.  Has a baby in a pram (or is that ALL she has in the pram.…??)
SERGEANT SAMWAYS
The village bobby. No time for nasty types like Hazell.  Likes to put on his 'proper policeman' voice: 'What, may I hask, is 'appenin' 'ere?'
CHARLIE KINCH
The village cabbie. 'Hail fellow well-met,' salt of the earth.
And here are the doubling-ups:-
Female – Dr Spencer/Head Teacher/Gamekeeper 2/Shooting Party        Guest
Female – Mrs Clipstone/Council Inspector/Shooting Party Guest
Male     – Sergeant Samways/Shooting Party Guest
Male     – Gamekeeper Rabbetts/Ambulance Man
Male     – Charlie Kinch/Teacher (Mr Jackson)/Gamekeeper 3/Ambulance Man/Shooting Party Guest
Please take a look at the scenes below that I'd like to hear at the audition, taking note please of the characters' doubling up.
Danny – solo speeches page 3 and page 86
Dad and Danny – scenes page 3, page 51, on page 51; and page 57 from 'Your Mum was wonderful.'
Dr Spencer/Dad/Danny – scene page 33
Headteacher/Danny/Hazell/Gamekeeper Rabbetts – scene page 42
Hazell/Dad/Sergeant Samways (Dr Spencer will be 'read in.') scene page 73
Charlie Kinch/Dad/Danny – scenes page 6
Mrs Clipstone/Danny/Dad – scene page 8
Council Inspector/Danny – scene page 36
Hazell/Danny/Gamekeeper Rabettes/all Shooting Party – scene page 83.
Any questions, please email me at jane@stablestheatre.co.uk
---
Scripts are available to hire from the Box Office.