'A Bunch of Amateurs'
a comedy by Ian Hislop and Nick Newman.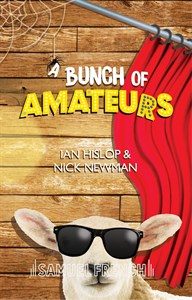 Auditions: Sunday 11th February 2018, 3pm.
Playing Dates:  27th July – 3rd August 2018.
Director: Chris Lacey.
In their introduction to this play Ian Hislop and Nick Newman describe it as ' a love letter to amateur dramatics' and so it is. Like the authors, I have been involved in amateur theatre from the age of 11 until now in my late 60s. My adventures have included church halls, school productions, performing abroad in West Berlin as a member of the National Youth Theatre in the late 1960s and in the West End with the same company. Then as a member and President of the University of East Anglia Drama Society where until we produced 'The Ruling Class' made little money but did nurture some well known professional actors, directors, and producers. Not me I hasten to add. From there to open-air productions with the BATS and finally in 1982 to The Stables Theatre. Amateur Theatre has brought me many friends, my wife and a daughter who has continued in the family tradition in Hastings, London, and Edinburgh. The one constant has been the sense of a company. It is as Hislop and Newman write a 'place of excitement, terror, passion and sheer fun. It is like having children a great leveller'.
'A Bunch of Amateurs' started life as a film screenplay for a movie released in 2008 starring Burt Reynolds, Sir Derek Jacobi, Imelda Staunton and Samantha Bond. To quote Hislop and Newman again 'The experience of writing the film was to have a direct impact on the writing of the subsequent play. Whereas the film was written from the imagination, the play was based far more on our experience of working with a bona fide Hollywood star. Like our hero the former Hollywood legend Jefferson Steel, Burt Reynolds was looking to reboot his career. Like Steel, Reynolds was surrounded by actors more versed in Shakespeare than he. Like Jefferson, Burt had a problem remembering some of his lines. The words " I can do it with a look" saw a page of dialogue disappear on screen. So when the Watermill Theatre, Newbury finally commissioned us to write Amateurs for the stage in 2014, we knew we could make it much richer and more realistic.'
The Plot
Keen to boost his flagging career, fading Hollywood action hero Jefferson Steel arrives in England to play King Lear in Stratford – only to find that this is not the birthplace of the Bard, but a sleepy Suffolk village. And instead of Kenneth Branagh and Dame Judi Dench, the cast are a bunch of amateurs trying to save their theatre from developers. Jefferson's monstrous ego, vanity, and insecurity are tested to the limit by the enthusiastic am-dram thespians. As acting worlds collide and Jefferson's career implodes, he discovers some truths about himself – along with his inner Lear!
Whatsonstage gave it 5 stars and described it a 'terrific comedy packed with killer comic dialogue  .. and plenty of twists and turns'. Just the show for carnival week in Hastings.
The Cast
Jefferson Steel
A fading Hollywood star who is arrogant, insecure, brash, gauche, demanding, vulnerable, charming, good looking and ultimately aware of his own absurdity. Age 50s -60s.
Audition pieces will be taken from Pages 4-5 / 6-12/14-19/20-23/28-30/36-43/ 56-58
Dorothy Nettle
A director of The Stratford Players and the moving force behind keeping the theatre alive. Her sweet and accommodating manner conceals her inner steel. Attractive, middle-aged, middle-class English woman who takes little care over her appearance. Friendly, good-natured but nobody's fool.
Audition pieces will be taken from Pages 1/6-12/14-19/20-23/28-30/79-81
Jessica Steel
Jefferson's teenage daughter, who has been neglected by her Hollywood star father and now wants to make him pay for it. Can be played by someone in their 20s.
Audition pieces from Pages 36-43 /59-61
Nigel Dewbury
Solicitor and leading light of the Stratford Players. Pompous, stuck-up and self-regarding. He believes he is the star of the show and should play all the leading roles. He also fancies his romantic chances with Dorothy. More luvvie then the genuine article. Middle-aged and the sort of gentleman who wears a smart blazer and bow tie. Played by Derek Jacobi in the film.
Audition pieces will be taken from pages 6-12/20-23/30-31/34-36/79-81 /90
Mary Plunkett
Owner of the Rectory bed and breakfast. Jolly, generous and unashamedly adoring Jefferson Steel fan – although somewhat confused about which roles he played in his films, and how keen he is on her. Middle-aged.
Audition pieces will be taken from pages 6-12 /14-9/63-67
Denis Dobbins
Handyman and village Mr. Fixit. Avuncular, though slightly dull. Over-weight and middle-aged Denis is star-struck by Jefferson and fancies heading up his entourage of one.
Audition pieces will be taken from pages 6-12 /32-33/ 43/45
Lauren Bell
Thirty-something marketing executive, former physiotherapist and sponsor's wife. Passionate about the arts and smarter than her husband allows her to be. She is treated as a bimbo because of her looks.
Audition pieces will be taken from Pages 6-12 /56-58/79-81
Journalists – we only hear them offstage.
We will have a read through in April. We will begin some rehearsals in May but the bulk will be through June and July.
This is a play about the redemptive power of theatre. As Hislop and Newman point out because they worked with a 'movie legend' in the original film it was a case of art imitating life imitating art. Above all, it is very funny, fast-moving and needs a company to bring it to life and allow the audience and themselves to have fun.
---
Scripts will be available to hire from the Box Office.