REVIEW: Sylvia by A.R.Gurney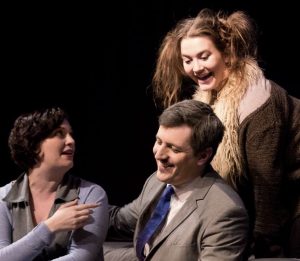 Hey! Hey, Hey! Sylvia bounded on to the Stables Theatre's stage spilling words and using energy as if in endless supply. She was foul mouthed, manipulative, gross, funny, endearing and so full of life it was impossible to remain indifferent. She was also a dog, with whom a middle aged business man has an affair, or rather more than an affair as, says his wife, any wife worth her salt is perfectly capable of seeing off an affair.
Very much a nineties New York play, Sylvia pitched into territory made more dangerous by the passing of twenty years but still managed, in the capable grip of Matt Turpin and his excellent cast, to avoid the more serious pitfalls that doubtless presented themselves on the page. The central conceit of the play, having the dog with whom the older man is smitten played by a young female actor displaying and receiving devotion in direct view and to the distaste of the man's wife, could at the very least, be awkward in less skilled hands.
I expected to hate it. I didn't. And I didn't largely because Grace Collett as Sylvia produced a performance of such intelligent vigour that allowed no trace of awkward sexuality to mar the relationship between Sylvia and Greg and, while delivering very human words at great pace and with great precision, her spirit as a dog was never in doubt. The relationship was well written and brilliantly delivered, never uncomfortable and never mawkish. Playing against her, Henri Hayler portrayed a man in the wilderness being redeemed with sensitivity; Zoe Morgan, a late and very, very fine substitute, played the not quite wronged wife with elegance and genuine emotion while Laurie Brook Summers, required to produce three character studies of great range and not a little silliness, rose to the challenge with skill and humour.
The simple set allowed the play and the performances to fly, whilst distinctly evoking place and allowing subtle and clever lighting to firmly establish mood and time. Sound effectively added further layers to the evening and costume contributed to character and the definition of time. Matt Turpin surrounded the production with talent and while billed as a comedy, the emotional depth of the piece was fully explored.
At the curtain, the audience were deservedly generous in their applause. Had Grace Collett taken a call of her own, I, and I suspect many, would have been on our feet.
Martin Robinson