Falstaff – Adapted From The Novel By Robert Nye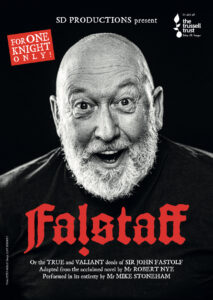 Performed by Mike Stoneham.
Adapted from Robert Nye's acclaimed novel, Falstaff merges Shakespeare's great comic creation with the real-life soldier, Sir John Fastolf. The result is a deeply moving, funny, bawdy romp through the middle-ages. Agincourt, frogs, slugs and plenty of onions all receive the Falstaff treatment in this living, breathing, warts-and-all tapestry of our favourite, larger-than-life, old knight! A 'not for profit' production in aid of The Trussell Trust.