STABLES AGM 2019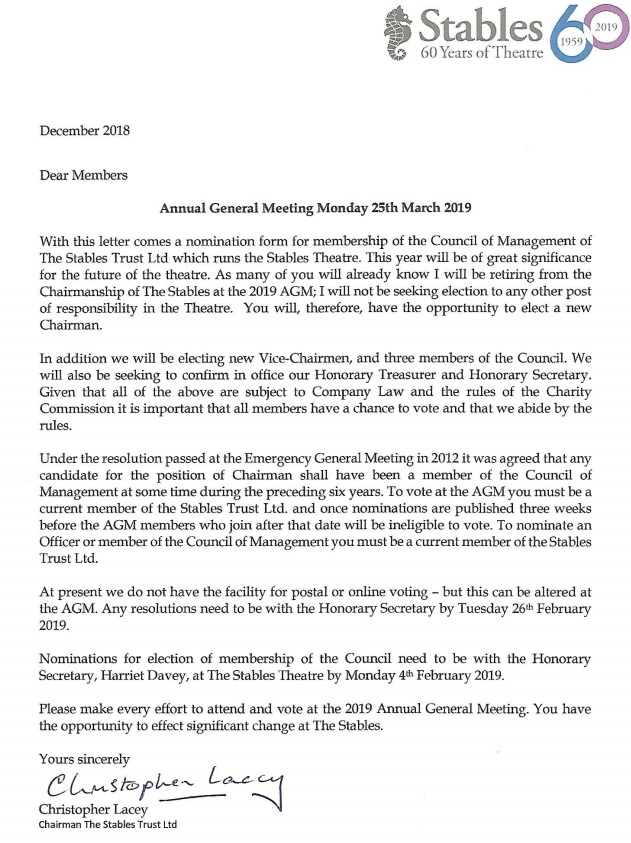 THE STABLES TRUST LIMITED
The 61st Annual General Meeting will be held at the Stables Theatre, High Street, Hastings on Monday 25th March 2019 at 7.30 pm.
BUSINESS
1. Introduction.
2. Apologies for absence.
3. Minutes of the last Annual General Meeting.
4. Chairman's Report.
5. Treasurer's Report and Accounts for the year ended 30 September 2018.
6. Election of Officers and Members of the Council of Management. Nomination forms can be found here and must be returned by 4th Feb 2019.
To serve for one year:
Chairman
Hon.Treasurer
Hon.Secretary
To serve for two years:
Two Vice-Chairmen
Three Members
7. Any other business :
Close of formal proceedings
————
8. Any Questions / Open Forum
————
200 Club Major Draw
————
Harriet Davey, Secretary
The Stables Theatre
High Street, Hastings